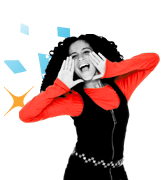 Jessica is a member of the Electric Company and Hector's sister.
She can throw wordballs and replay any voice she hears.
Personality
Edit
Jessica has a caring, fair and kind personality. Jessica is also nice by baking pies for a charity "Pies for Puppies" for a animal shelter where Jessica and Hector adopted their pet, Benny. Jessica seems to like to rap (since P-Star since a rapper in real life). Jessica seems to make really good pies and really likes the comic book series, "Mighty Bright Knight".