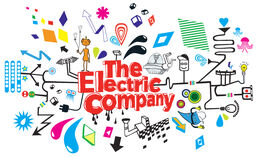 The Electric Company is a series that teaches kids sounds and how to read. It is originally designed for kids age 6-9. The show includes showing animated segments, music videos that provides hip-hop, r&b, and rock, and letter/puncunation/sounding out segments.
It is about a group of nice siblings and two friends with a special power and a special skill as they use their power for good to protect their neighborhood from the Pranksters as they try to ruin their fun or somebody else like the Skelecians as they figure out to solve the problem at the Electric Diner.
The Electric Company
Edit
Josh Segerra as Hector
Priscilla "P-Star" Diaz as Jessica
Jenni Barber as Lisa
Ricky Smith as Keith
Coy Stewart as Marcus
The Pranksters
Edit
Ashley Austin Morris as Francine
Sandie Rosa as Annie
Dominic Colon as Manny
William Jackson Harper as Danny
Carly Rose Soneclar as Gilda
January 28, 2009-March 28, 2011
Guest Stars
Edit
Doug E. Fresh
Jimmy Fallon
LL Cool J
Burham Brothers
John Leguimazo
Whoopi Goldberg
Kyle Massey
Christopher Massey
Good Charlotte
Common
Dwight Howard
Ne-Yo
Sean Kingston
Swizz Beatz
Tiki Barber
Marc Ecko
Samantha Bee
Pete Wentz
Ad blocker interference detected!
Wikia is a free-to-use site that makes money from advertising. We have a modified experience for viewers using ad blockers

Wikia is not accessible if you've made further modifications. Remove the custom ad blocker rule(s) and the page will load as expected.