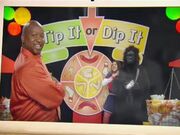 Tip it or Dip It is the 11th episode of the Electric Company (season 3).
Marcus gets to be a contestant on his favorite game show, "Tip it or Dip it", but Manny gets to be a contestant, too. But things get worse, when Francine gets to be the guest host for the day with Rob Robson (Sherrod Small) as when Marcus finds out, he yells "Hey, You Guys". Jessica and Keith helps Marcus train for the game show. Manny has Francine helps him cheat after helping her for a gimmick as being a guest host as Manny gives Francine a gadget that blows her hair like a hurricane as the two Pranksters put a heavy dumbbell in Marcus's pudding. At the game show, Marcus' weight isn't getting heavy as Manny wins, but Jessica suspects something is wrong as She tells Marcus to check his pudding and finds the dumbbell. Marcus then wins the last round by one point and he wins a life supply of pickles and Manny gets his bowl of pudding poured on him and splatters some on Francine using the gadget he gave her.
William Jackson Harper as Danny Rebus
Sandie Rosa as Annie Scrambler
Carly Rose Soneclar as Gilda Flip
Guest Star
Edit
Ad blocker interference detected!
Wikia is a free-to-use site that makes money from advertising. We have a modified experience for viewers using ad blockers

Wikia is not accessible if you've made further modifications. Remove the custom ad blocker rule(s) and the page will load as expected.